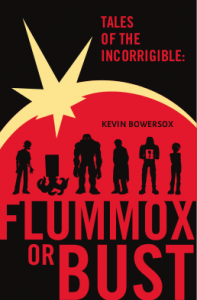 It's so far into the future that Oprah's papacy is but a bizarre footnote in the history books. The invention of the Flitzdrive has shrunk the mind-numbing magnitude of the galaxy down to less than a year's travel from edge to edge. Thousands of sentient races that once didn't know each other existed now intermingle and irritate one another on a regular basis.
When the most notorious space pirate that ever lived disappeared for the final time, his ship was rumored to carry a plunder of legendary worth. So when the crew of the starship Incorrigible gain a clue to that ship's location, it begins a star-spanning quest battling the forces of nature, time, space, and society to retrieve it.

EXPLORE!

an eerie ghost planet overrun with rat-faced scab melons and purple lung pluckers!

EXPERIENCE!

the scarred surface of Frag, crawling with creatures created with but one purpose: destruction!

MARVEL!

at Vadnu, a planet consisting entirely of water from surface to core.

MOURN!

within walking distance of Amphora, the fabled city in a can!

INTRUDE UPON!

a naked old man who holds the key to the treasure of a lifetime.

It is all waiting for you aboard The Incorrigible.
A review from Amazon: Genious. Great book! The author thinks outside the box and keeps us wanting more. I can't wait to see future publications from Mr. Bowersox.
Tales of The Incorrigible: Flummox or Bust is available at

Amazon

and

CreateSpace

.
To read a sample and order a signed copy, click HERE