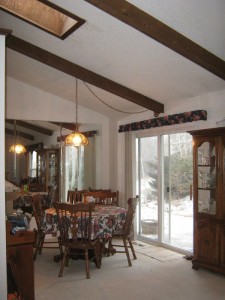 Whoever decorated the house we moved into eight months ago loved mirrors. Two bathrooms boast mirrors that are 3′ x 5′, with the third, 40″ square. A built-in vanity space has a mirror that is 3′ square, and one bedroom has closet doors with mirrored panels for 6′ by 70″ of reflection. And last, but certainly not least, is the whopping three panels of mirrors in the dining room totaling 54 square feet of space-doubling, light-reflecting decorating in a room that is already pretty long and bright due to two skylights.
Recently, I pulled up my carpet in this space and laid down laminate flooring, spending a lot of time in front of this huge mirror. And I noticed a few things. 1) The whiteness of my legs has never been so blinding in August. Moving off my Kansas acreage and being planted in the middle of a city kept me inside more. 2) I'm not nearly as thin as I'd thought. Catching glimpses of myself while working, instead of standing in front of a mirror with my gut sucked in proved that. 3) I love this space with the vaulted ceiling, exposed beams, sky lights, patio door, and bay window with a window seat, and I'm very grateful to be living here (especially now that I've gotten rid of the horribly stained carpet!).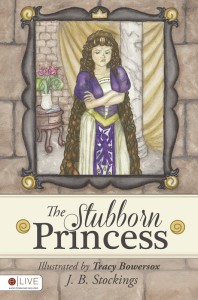 Some people avoid mirrors, but mirrors are important reality checks. In my children's picture book, The Stubborn Princess, the princess grows tired of the upkeep of her long curls and shuns her hair-care team. To convince herself that nothing has changed, she only views her face in a tiny hand mirror. Therefore, she has no idea how crazy her hair gets until it is mistaken by a bird for a nest…
While The Stubborn Princess is a fun, rhyming story with great illustrations that little girls love, it also teaches lessons about the cost of neglecting the simple disciplines of life and the danger of ignoring reality checks along the way.
The Stubborn Princess is available through Amazon and Barnes and Noble in paperback form. To get an autographed hardcover, go to my website, JodiBowersox.com.