I've always been a romantic, so when it came to planning our honeymoon in the summer of 1983, I thought a cabin on top of Grand Mesa Mountain in Colorado would be ideal.The cabins in the brochure looked nice enough from the outside, and the description boasted a shower and a kitchenette.  A week of canoing, hiking and seclusion seemed perfect
The first thing we noticed when we arrived, however, was that several of these "nice" cabins were collapsed. That ought to have been a clue, but we proceeded into the office cabin and laid down $400–the whole week's rent minus what I had already sent them as a deposit. THEN we looked at the cabin that was supposed to be our little love nest for the week.The shower seemed to be a metal box off the bedroom, and the kitchenette was a hot plate with a small sink. There were mosquitoes smashed all over the walls.
I'm not that much into roughing it. This was not okay.
Just a few minutes in, we were ready to leave. The only problem was, I had just given the proprietor nearly all of our honeymoon money. If we couldn't get that back, there would be no honeymoon elsewhere.
What were the chances that she'd just hand it back? We didn't feel inclined to chance it, so we put our theatre degrees to work. I faked a call home from the phone in the office to find out that the uncle that had been feeling ill at our wedding (this part was true) had taken a turn for the worse (this part not so much). Then we told the lady behind the counter that we had to leave because my dear uncle was near death. And we, of course, would have to have our money back.
I doubt she believed us, but she did give us back our $400. And I suppose we should feel guilty, but those cabins were totally misrepresented in their brochures. (This was before the days of internet and ratings, bad reviews, etc.) So what next? We suddenly had no plans whatsoever for a week. For a big time planner like I am, this was a challenge, but what else could we do but come up with a new plan?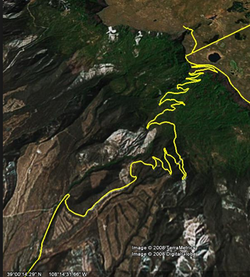 The first order of business was going back down the mountain. This treacherous mountain road was called Lands End Road and took us close to Grand Junction where we found a room for the night.
Did I mention we drove this road as it was getting dark? Somehow it didn't glow like this picture.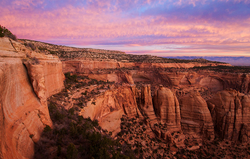 The next day was spent searching for the Colorado National Monument somewhere on a mountain. Eventually we figured out that the MOUNTAIN was the monument.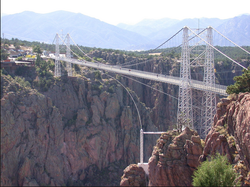 We crossed The Royal Gorge back when you didn't have to take out a loan to be able to afford it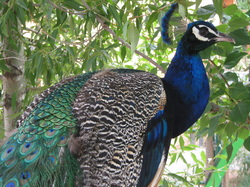 and toured the Cheyenne Mountain Zoo at Colorado Springs before heading north to Denver where we saw a terrible 3-D movie on our last stop before heading home.
It wasn't ANYTHING like I'd planned, but romance isn't found in a place, it's found in a person. That one special person that I've been driving around with for 30 years, and in many ways, we're still making it up as we go along.And as long as he's with me, I'm okay with that.