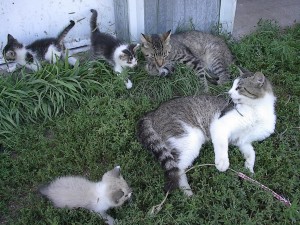 The history of my parents' farm includes a period of time when my brother and his family lived there, followed by a period of time when they didn't, and nobody lived there, and the current epoch where they live there again.
During their first habitation, a respiratory illness broke out among their cats. Although some fared worse than others, it seemed that none were immune completely. Every new kitten born there eventually became a snot-nosed feline.  And even when nobody lived there, the disease went on among the cats that had been left behind for my dad to feed.
While home one summer, we visited the farm to find a batch of adorable kittens just the right age to leave their mother. We were torn. We already had a number of cats, but to leave them was to doom them to a life of sneezing, and death by excess mucous. There really wasn't any choice to make. When we left, we took all four of them with us.
Two went to my niece (they were really her cats anyway) and we kept two–Buffy and Fiddlesticks.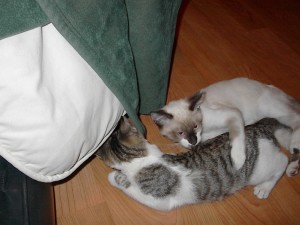 We never had a pair quite like Buff and Fiddle. Fast friends and fierce wrestlers. They spent their days zooming around the house, usually with Buffy chasing Fiddle.
Buff was a tough cat, and he played rough. When he got to be too much for sweet Fiddle, I'd stuff him in a pouch-like shoulder bag I kept hanging on a doorknob. This was the time-out bag, and it gave Fiddle a chance to beat up on him for a change.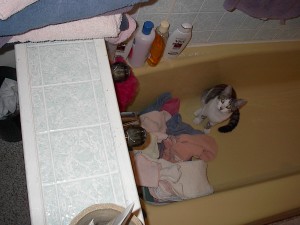 Both were mischief makers…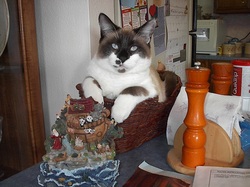 with tons of personality…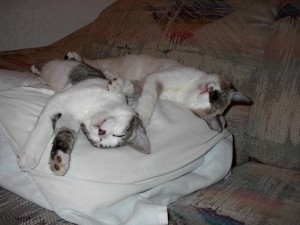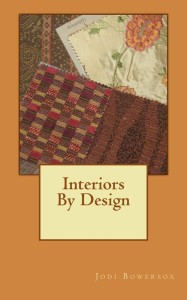 Soooo, when I decided I needed some cats in my romance novel, Interiors by Design, I used these two to bring a bit of mischief, mayhem, and sweet comfort to the storyline.
They may be minor characters in the book, but they will forever be major characters in my heart.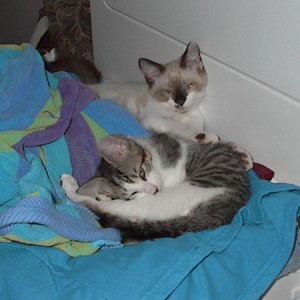 Interiors By Design is available at Amazon in paperback form and the Kindle Store.