Nails
The pain is growing stronger.

Once, the nails pierced only a small part of my life—just a scratch and quickly healed.

I gladly offered my finger to be pricked—to give a little, but not too much.

But that's no longer enough.

I've had to give my hands to be reshaped and molded for service to others,

My legs are being exercised and strengthened to walk the extra miles.

My eyes are being transformed to see only the good and the pure.

My tongue is being disciplined for the edification of others—the put-downs are being removed one by one.

And my ears are being fine-tuned to the voice of Him who has called me to be His perfect and holy bride.

What was once minor surgery has become a major operation, and the nails are pounded deeper

into the very heart of me.

As the last of myself is poured out, leaving me alone and empty, the tears come, and I close my eyes.

For the voice that has taught me to trust is whispering something about

a resurrection


Three
It's the three-year-old that really tests what you're made of.

It's at the age of three that he discovers that he's the boss of the house, and if he isn't, he should be.

He rants and raves and expects his every wish to be granted, but when the parent makes the tiniest

request, the child takes on the characteristics of a brick wall or even less subtly,

puts his hands over his ears.

He also knows the importance of language, and how it can be manipulated

to avoid communicating altogether.

When you ask him to put away his toys, he says, "Mana."

When you ask him what "mana" means, he says, "Anka."

When you ask the meaning of "anka," he says, "Manisha."

When you ask him what "manisha" means, he says, "that means the kitty is soft."

"But what does that have to do with picking up toys?" you ask, your patience fraying.

He looks at you like you've had your hands over your ears and says, "Mana."

Am I starting to sound wise to these three-year-old ploys? Yes, I've been around the sand box a few times.

I travel to the brink of insanity and back each day.

"And back" is the key.

I come back to swing, to dance, to help a small hand plant flower seeds, to jump through a sprinkler, and

splash in a four-foot pool.

I come back for the giggles and tickles and hugs.

It's the love that brings me back from insanity each day,

and love that makes me march right into the middle of it again and again.

You haven't a clue to the extent of your parents' love for you until you're holding that child of your own,

and you realize that he will never love you

as intensely as you love him.

I guess that's just how it goes—the only way to truly repay the last generation

is to love the next.




Handling It
"God never gives us something that we can't handle."

For some reason that so often repeated quote popped into my head as I was pleading with God on an issue

that was breaking my heart.

I said it again slowly as if I'd never really heard it before.

My mind flashed with dozens of situations that I hadn't been able to "handle" lately.

Just making it through a Saturday with both of my children at home is enough

to send me in search of a tall bridge.

Phrases like "You're pushing me to the limit,"

"I think I'm losing my mind,"

and "I need a vacation!"

pop out of my mouth daily.

Sometimes I'm so exasperated that saying anything is completely impossible.

A few words tumble out and end in sobs.

So where's the "handling" part?

Has God misjudged how capable I am of handling what's happening in my life?

Has He got me mixed up with someone else?

I guess I have to admit that I really don't believe that phrase anymore.

My problems are too much for me to handle, as the tears on my pillow testify,

and my children are more than I can take most days.

Let's face it, just surviving in this world is a pretty tall order.

People on top of the world usually fall off eventually.

Maybe "I can't take it anymore!" is what we all should yell at the top of our lungs,

then turn and lay it at the feet of Jesus.

Maybe God gives us what we can't handle each and every day, so that each and every day,

we must turn to Him for the "handling."


Traveling With Angels

Trust in the Lord with all your heart
and lean not on your own
understanding;
in all your ways acknowledge Him,
and He will make your paths straight.
Proverbs 3:5,6

This was my 1997 verse of the year. In April of that year I wrote to a friend that I felt that God was pushing me down a more trusting road. Even now I have no idea why I thought that, but while I was writing it, I had a little bump developing under my eye. About a month later I was diagnosed with a keratocanthoma (try saying that 5 times fast) which is a nasty little form of skin cancer that grows very rapidly and can spread very quickly if you're unlucky enough to get one on your face.

God led me to an excellent doctor, but there was this weird delay with the lab results that left us pretty stressed for a time. One evening when I just lost it and started to sob like I hadn't sobbed in years (1982 to be exact), Jesus came to my mind and reached out His hand to me and said, "Do you trust me?"

What could I say but yes?

And over and over again He has spoken those words to me this year. "Do you trust me enough to accept where you are, and that I put you there? Do you trust that I see you, know the situation, and have things under control?"

Leaning on my own understanding is like looking out the window without pulling up the shade. God has the room with a view.

This was illustrated from God's own pen so clearly on a trip to Nebraska in November of that year. Just my boys, Tristan and Tracy, and I were heading up from our home in Kansas to spend some time with my parents when, somewhere between Stockton and Phillipsburg, I felt that familiar lurch (I'm embarrassed to say "familiar") that made me jerk my head in the direction of the gas gauge and then scream.

Now, I always take my boom box on these trips because singing along keeps me awake (that, and a 30 oz. bottle of Mountain Dew), and anyway I love to sing. So I had been "praisin' the Lord in song" for oh, I don't know....about FIVE HOURS, and the fact that I was now sitting by the side of the road with two kids and an empty gas tank, REALLY TICKED ME OFF!

"God," I said, "couldn't you have given me just a little prod in the middle of all that BEAUTIFUL PRAISE to glance at the gas gauge? You have given me prods for far less important things than this before!"

Well, the kids began to wonder what we were going to do, so we prayed, and I informed God what I wasn't going to do. "I am not going to get out of this car and flag somebody down. No sirree, God, I am going to sit right here, and You just bring me an angel."

Cars zipped by, and Tristan informed me that he had to go to the bathroom. Perfect. Luckily, they're boys, and the side of the road is just as good as a Texaco. While out and about, the kids spied a house a ways off the highway, but having had experience with vicious rottweiler- type dogs guarding country homes as of late, I had no intention of starting down that road. So back in the car, I continued to pray for an angel as the cars zipped past.

"Okay, God, I'll put on the hazard lights, but I'm not getting out to flag down some serial killer."

Time passed. Cars zipped. We prayed.

I knew my parents would soon be getting worried, and I did not want to be in this same situation in the dark, so exasperated, I opened my car door, stomped up to the front of the car, popped the hood, and stood by looking as totally helpless as I could.

"Alright God, here I am," I said. "Now you bring me somebody I can trust. I need that angel!"

A line of cars went past, and the last one slowed down and turned around. It was a very nice lady who offered to take me on to Phillipsburg to get some gas. I got the kids and loaded them into her car. As I got in, she handed me a box that had been sitting on the seat.

"Would you mind holding my angels?" she asked.

I looked down, my eyes filling with tears, at three little craft angels in a box.

"Do you trust me?"

Well, to make a long story even longer, we got the gas and returned to my "beached whale" with a little, tiny gas can that I prayed held enough gas to get us to the next town. As I unloaded the kids from her car, I felt I had to tell her what that box of angels meant to me. She laughed and said she'd have to tell her daughter, because she was more religious than herself. That's who the angels were for. That's why she stopped to help me--her daughter and grand daughter were traveling that day too. She tried to laugh it off but said that maybe her daughter would make a believer out of her yet. Maybe two prayers were answered that day.

"Do you trust me?"

As we continued our trek north with a double rainbow to our right, I said, "Yes, Lord I trust you," and into my head came the words, "Never will I leave you or forsake you."

Sometimes, for amazing things to happen, you have to get out of the car.



Popcorn and the Big Blue Bucket
Goats can be pretty goofy creatures.

Despite what you may have heard, they won't really eat tin cans, but they will eat almost everything else. Paper, cloth, hair—if you pass out in a pasture with goats, you will wake up naked and bald.

Being taste connoisseurs, they of course really like the goat feed I give them every day, and not really understanding that certain feeds are for certain animals, like the horse's feed even better. And because one horse can't fend off three goats when they have their mind set on his food, I have to stand out in the pasture until the horse is finished.

If the feed were in a pan on the ground, even I couldn't keep three goats from getting the food. Therefore we recently put the horse's feed in a big blue bucket suspended from a tree.

This plan deterred two of the three goats. The third, a white goat with butter-colored cheeks named Popcorn, won't let a little thing like height keep him from what he wants.

Popcorn stares up at the big blue bucket, longing in his eyes, waiting until my back is turned; then he jumps up and hits it with his front feet, startling the horse who takes his head out. Then somehow this silly goat gets his front feet up high enough to tip the bucket so he can get his head in. And there he stands on his hind legs with his front legs and head in the suspended bucket.

I, of course, get him out because, not only is he stealing sustenance from the horse who was pretty skinny coming out of winter, he is extremely FAT!

It occurred to me one morning that I am, on many occasions, just like that goat . I want, want, WANT what I do not need. The big blue bucket for me is sometimes a bigger house with room for all our hobbies. Some days it is breathtaking landscaping with an outdoor "room." On other occasions, it is stylish (and expensive) clothes like I see in the Coldwater Creek ads. And what's more, I want these things knowing there is no lack of needy people in the world whose big blue bucket is just one bowl of rice.

The only cure I know for discontentment of this sort is to get in the presence of God where His glory outshines every other thing.

When Popcorn starts staring at the bucket, I say, "Poppy, come over here."

He comes over to me and rubs his head on my leg, and in those moments, he is content.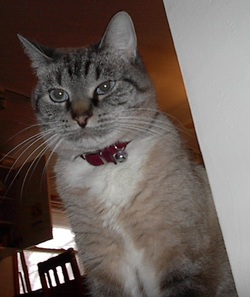 The Cat in My Bathroom

I have a cat that lives in my bathroom.

She doesn't spend every minute there, but she definitely considers it her room.

She often comes to me when I'm working at my desk and claws on my leg. If I get up, she will try to lead me to one of three places: the door to go out, Tristan's bedroom door, to be let in, or to the bathroom.

She has always been a cat obsessed with water, so the bathroom does seem like a logical place to be her hangout. (She even leaped into the swimming pool once just to try it out. She really didn't like it very much—at least she's never done it again.)

Leave a bit of water in a glass somewhere around the house and she will find it and spill it. Even the small bowl of water we leave for her in the bathroom has to be set in the sink, because she will tip it over. Apparently water is tastier after it has run all over the counter or floor.

In the last year or so, she started having trouble jumping up on the counter—kitty arthritis, I guess—so we have to lift her up when she wants a drink. And it's amazing how often she wants a drink. I think she may also have kitty Alzheimer's.

There is one other purpose for the bathroom in her little walnut brain—to get some love.

If I get up in the night, she meets me at the bathroom door. (Is she just sitting in Tristan's room, listening for me?) She may want a drink before I leave, but what she really expects in the middle of the night is to be petted.

At that time, it's just me and her in the quiet. Me telling her how beautiful she is, and her telling me she knows.

There have been several times lately that she claws on my leg while I'm working at my desk, leads me to the bathroom, but doesn't want a drink. If I leave and go back to work, she will come and get me again.

Trying to pet her by my desk only makes her mad. She is only happy if I sit down and pet her in the bathroom— in her space. It seems she's decided that she deserves some love in the middle of the day. And she seems to know there are very few distractions in the bathroom—she gets my full attention.

As Christmas fast approaches, and really, all through the year, there are many activities to distract us from the One who deserves all our praise. And just like my cat, He is calling us to come away to His throne room for a little one on one time.

And, yes, He's listening and waiting. He'll meet you there.


---

The Hug
October 23, 2010. I got the phone call late at night that everyone dreads—my mom had had a stroke and had been life-flighted to a larger hospital than what was in their small town of 1500 people. At that point she was unconscious.

The report from my brother the next morning was grim. The stroke had destroyed much of Mom's brain. She was only alive because of modern technology. There was nothing left to do but take her off the ventilator and let her go home to Jesus.

But when we drove up to the hospital, she seemed to be seeing us and she responded to our questions with blinks. The doctors still insisted that she was not going to improve and would most likely suffer more and more strokes until she died. So was this better or worse? My brother felt like it was a blessing that he got to "interact" with her one more time. All I could see was my dear mother with a ventilator crammed down her throat unable to move, except blink. I felt so completely helpless. All I could think of to do was sing to her, so I sang every hymn I could remember the words to and some I couldn't.

I should have stayed there that evening, but I didn't. I was kind of in a state of shock, so I said goodbye—said I'd be back later. This was too hard—more than I could handle—more than I was able to bear.

But that evening, I regretted leaving and driving the hour back to my parents' house. I was sitting in Mom's sunroom after dark crying and praying. I was terrified that Mom might be conscious enough to realize what had happened to her and be terrified--unable to move, unable to speak.


I was begging God for some sign of his presence in this dark hour--something that would give me confidence that He was there with Mom and giving her comfort. I told him I just needed Him to give me a big hug somehow. A split second later, the door opened, Kevin walked in, sat down beside me and threw his arms around me.


I'm sure he thought it was his idea.