A Tale of Two Kitties
to purchase click HERE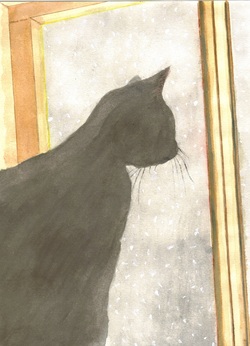 Snowflakes were falling slowly down to the already white ground, and it seemed to Diana that the gray skies were here to stay.

"What happened to sunshine and green grass?" asked Diana gloomily from her perch on the windowsill. "I don't like this white stuff; it's too cold."

Diana shivered and fluffed out her fur, which had gotten much thicker with the lower temperatures.

Diana was a little black cat, not even a year old yet, and since she had never lived through a winter before, she didn't know that spring would follow eventually as it always does. Diana feared that the awful cold and snow would go on forever, even though Cyrus kept telling her that it wouldn't.



---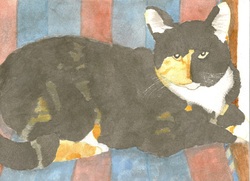 Cyrus was a fat, calico cat who had seen winter turn into spring before so wasn't worried about the present cold—as long as she didn't have to venture out into it.

She looked up sleepily at Diana on the windowsill then resumed her nap in the rocking chair.

Diana thought Cyrus slept too much. Diana had been bored a lot lately with no mice to chase but not bored enough to sleep all day like Cyrus—just bored enough to be restless.

Diana leaped down from the window, stretched, and began to wonder what fun she could find. She had played in the yarn basket yesterday and had been thrown out in the snow. Brrr. Diana shivered at the thought. She must be careful not to make a mess—or at least not to get caught making a mess.

She took a swipe at Cyrus' tail hanging down from the rocker and even boxed her ears, but Cyrus only yawned and rolled over. It was clear that if Diana was going to have any fun, she would have to find it for herself.

---
A review from Amazon
"The illustrations and story line of J. B. Stockings' book will resonate with and amuse all readers who admire or have ever lived with a cat. Stockings affectionately recreates situations cat lovers will recognize: the feline "repurposing" of a kitchen towel, the hot-one-minute-forgotten-the-next attitude toward an appropriated item, the strong pull of both sleep and play, and, of course, the mandatory exploration of new, tinsel-trimmed items in the living room. And like all children's books worth reading, Stockings' is as much about human nature as it is about feline nature. What child hasn't plotted to act under the radar of grown-ups--much as the two cats in the book discuss ways to break the rules of their "people" without drawing their attention? A young reader will learn from Stockings' tale that breaking rules may lead to unpleasant consequences, but that, in the end, love comes even to the guiltiest of rule-breakers."

To purchase click HERE